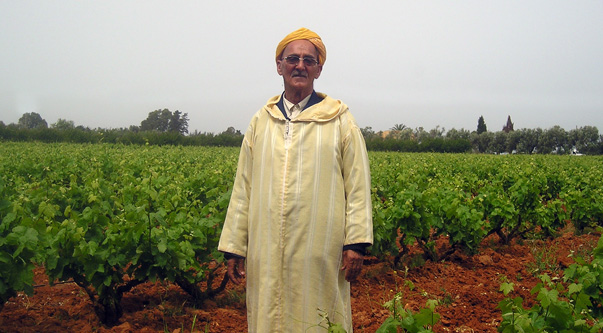 Mohamed, 72 years old, vine grower
Tell us a little about your vineyard
I've got a vineyard of 4 Hectares (note: the average in the region is 2 Ha). I planted every vine myself in 2001. I had a grant from the state and I converted what was wasteland into a vineyard. At my age, it's a lot of work.
Do you work with the family; with your children?
My children don't work with me; they have made their lives elsewhere. But I live in hope that they will one day, like me, hear the call of the earth.
What grape varieties do you grow ?
When I was planting in 2001 the successful grape varieties at the time were Cinsault and Carignan, so I planted 2 Ha of each.
What are the particularities of your appellation ?
Well, all of the Dahra appellation is contained in a band 10km long bordering the Mediterranean, so there is a strong maritime influence. We are lucky enough to have lots of sun during the day and to have cool, humid nights with morning mists and dew. That allows us to maintain a great regularity in maturity year after year.
Our collaboration began in 2006, what has it brought to you ?
It's good that Farid is here (Farid, graduate of the National School of Agronomy in Mostaganem, is the regional manager for the SGCO). He helps us a lot during the year, advising us on a reasoned approach to treatments, how to obtain the best yields. And he is a big source of support for us, since producing grapes for winemaking is not very popular, and it's important to feel that our work is appreciated.
Today we have more than just a professional relationship with Farid. He listens to us and helps us out, including with day to day problems, like taking us to the doctors, or to the town hall…